The Bach International Education Program (BIEP) is a three-tier training program on the flower remedies of Dr. Edward Bach ranging from introductory level to practitioner training. The program is designed to teach the healing system of Dr Edward Bach. In the US and Canada, the program is organized by Bach Flower Education, Living Enrichment.
These are the only courses in North America approved by the Bach Centre, UK. The programs are available in 22 countries worldwide. To download a brochure on the Bach International Education Program, click here
If you would like to bring a Bach Foundation
approved course to your area or school, please email us
Study the remedies your way - at home (even in your PJs) or in a local classroom with others
'Real Health is Happiness' Dr Edward Bach
Learn more about all your level 1 options
Scroll down to see our new one day Bach Flower Basics Course and Level1 Validation for Bach Basics Students
Level 2 is a practical interactive workshop, focused on developing
depth of both remedy knowlege and personal awareness
Break through your barriers to become your best YOU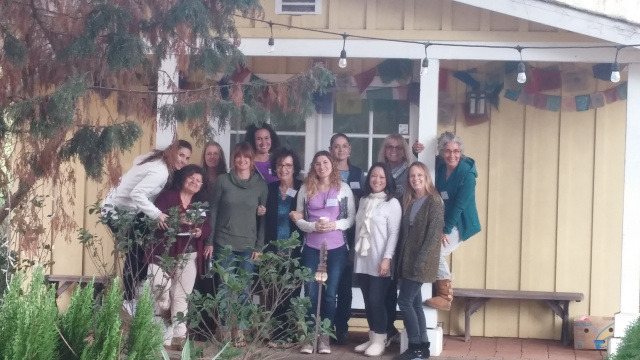 You will explore more deeply the way the Bach Flower Remedies relate to your life goals and your basic personality, and be guided through the subtle distinctions that can be made between closely related essences. Level 2 is a master-class, and provides the tools you need to gain a further understanding of the essences.
Prerequisites: Level 1 onsite or distance learning, web or Bach Basics validation

For further course details, click here
To enroll
Calendar of all Level 2 courses in North America
CEs available: 12.5 hours of Continuing Education Units are available for massage therapists (NCBTMB) and Oriental Medicine (NCCAOM)
Level 3, Bach Practitioner Training
Follow in the footsteps of Dr Bach and help others.
Become a Bach Foundation Registered Practitioner.
Teacher: Nancy Buono, BFRP
Director of Education
This course provides training for those who wish to use the Bach Flower Remedies in a professional manner or incorporate them into an existing wellness practice. Successful completion of the course allows you to apply to The Dr Edward Bach Foundation for inclusion in the International Register of Practitioners as a Bach Foundation Registered Practitioner (BFRP).
Prerequisites: Levels 1 and 2
For further course information, click here
Space available by application only, to download an application, please click here
SPECIAL TOPICS
For those who would like to take a live class but don't have a Level 1 nearby or those would you like to know more about the Bach Flower Remedies, but are not ready to commit to a Level 1 course, the Bach Flower Basics is for you! Taught by specially trained Bach Foundation Registered Practitioners, this one day course will give you all the Basics so you can begin using the remedies for yourself, friends and family. An added bonus is that if you would like to continue your studies and achieve Level 1 certification, a special online Validation Program is available. Only Bach Basics students may attend this online course.
CE's available: Continuing Education Units are available for massage therapists (NCBTMB) and PDA's for Oriental Medicine (NCCAOM)

You may find all course locations in the US and Canada by clicking the calendar link
Best Practices for Working with Pets and the Bach flower remedies
This course greatly expands the information provided in the human Level 1-3 courses and provides a solid foundation to the key principles to employ when working with pets. The course is designed for those who have not attended a Level 1 Pets and their People program. Minimum prerequisite: Level 1
For further information, click here. To enroll, click here
Teacher training is open to Bach Foundation Registered Practitioners in North America. Please click the link above for complete details.
Want a live class but no Level 1 in your local area? Email us.
To view a list of all BIEP programs in the US and Canada, as well as Bach Flower Basics and BFRP talks,